Ancestral Legacies
Digital Formats
An online gallery of interactive documentaries, video games, immersive media and digital projects featuring indigenous cultures from around the world
Genre
Adventure, hunting.
Year
2015
Country
Brazil
Author
Guilherme Meneses,
Carlos H. Nascimento,
Lita Hayata.
Platform
PC, Mac y Linux
A couple of Kaxinawá twins were conceived by anaconda Yube in dreams and inherited his special powers. A young hunter and a small artisan, throughout the game, go through a series of challenges to become, respectively, a healer (Mukaya) and a master of drawings (kene).
In this journey, they will gain skills and knowledge of their ancestors, the animals, plants and spirits; enter into communication with the visible and invisible beings of the forest (yuxin), to become, finally, real human beings (Huni Kuin).
Genre
Action, adventure, historical, mythology.
Year
2019
Country
Mexico
Author
Lienzo
Platform
Web demo, PS4, Nintendo switch, XBoxOne
Mulaka is a 3D action and adventure game that takes place in northern Mexico. Embark on a trip like Sukurúame, the shaman of the Tarahumara indigenous culture, and harness the powers of the demigods to fight creatures based on the mythology of the region while trying to fight the corruption that invades the earth.
Mulaka is being designed by renowned anthropologists and Tarahumara leaders to capture the true essence of culture in the game. Mulaka has the economic and cultural support of ICHICULT (Institute of Culture of Chihuahua) and the YOREME fund.
Genre
Strategy, construction of cities.
Year
2018
Country
Germany
Author
Guilherme Meneses,
Carlos H. Nascimento,
Lita Hayata.
Platform
PC, Mac y Linux
Voices of amerikua playlist
Genre
Online documentaries
Year
Various years
Country
Several countries
Author
Several authors
Platform
Web
Genre
Online animated stories
Year
2013 to date
Country
Mexico
Author
Gabriela Badillo, Hola Combo, Canal Once, INALI, INPI
Platform
Web
Animated series of indigenous Mexican stories narrated in their native language, created under the premise "No one can love what they do not know".
68 Voices, 68 Hearts is an animated series narrated in the 68 Mexican indigenous languages, created under the premise that "No one can love what they don't know"
Genre
Interactive education, storytelling

Genere
Multiplatform Art
Year
2020
Country
Mexico
Author
Vist / Several authors
Platform
Web
Africamericanos is a multi platform project involving visual research and the creation, distribution and exhibition of artworks which attempts to sustain and influence imaginary constructs associated with communities of African descendants in Latin America and the Caribbean. It also reveals how these communities' initiatives crisscross the continent from north to south, focusing our attention on specific narratives and the people who feature in them.
Genre
Interactive education, storytelling

The knowledge and wisdom of indigenous heroes around the world is largely unknown. Concurrently, wider humanity is at a crossroads, wondering where it came from and searching for a path forward. Where and how? This reality begs for a convening platform, a meeting place. When? Clearly the time is now: the window for sharing to take place is closing, as people are seeking answers precisely at a time when native communities are disappearing rapidly due to the forces of globalization. The place and urgency for a solution is the genesis of The Answers Project.
The mission of The Answers Project is thus two-fold: to provide a platform for native communities to share their knowledge and wisdom while simultaneously inspiring millions of people globally to rapidly share these stories and support indigenous cultural resilience.
Genre
Interactive map.
Year
2018
Country
Canada
Author
Native Land Digital
Platform
Web
You cannot find a corner of this continent that does not contain ancient history, indigenous value and pre-colonial names and stories. And each place we occupied was once the homeland of other people, most of whom did not leave voluntarily.
On the website and in the app, you can enter the zip code or name of any city. The interactive map expands your query, color-codes it, and extracts data on indigenous history, the original language, and tribal ties to the area.
GOOGLE EARTH VOYAGER – A TRIBUTE TO INDIGENOUS LANGUAGES
Genre
Interactive map.
Year
2019
Country
Various countries
Author
Google
Platform
Web – Google Earth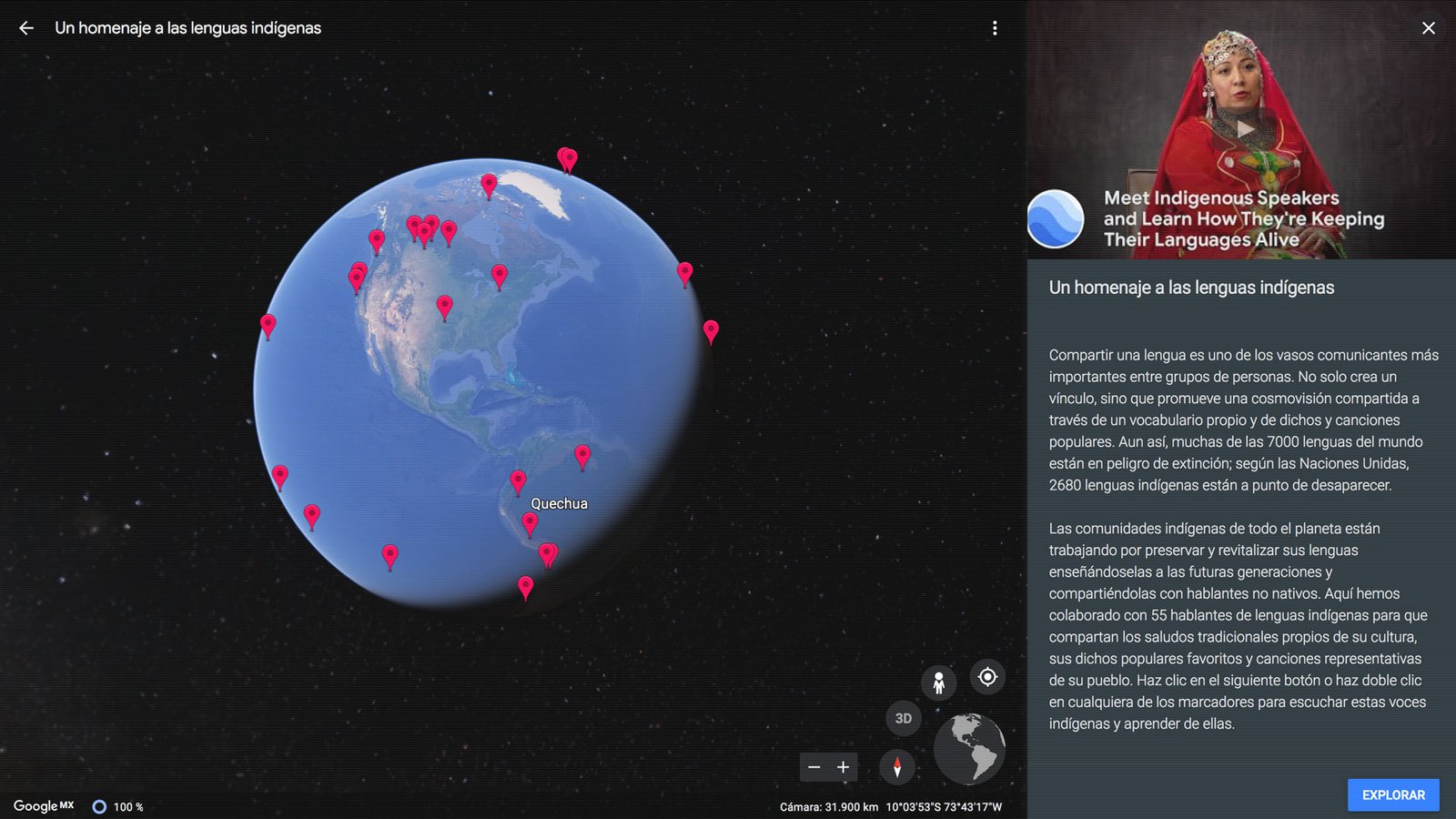 Sharing a language is one of the most important means pf  communication vessels between groups of people. It not only creates a link, but also promotes a shared worldview through its own vocabulary and popular sayings and songs. Still, many of the world's 7,000 languages ​​are in danger of extinction; According to the United Nations, 2,680 indigenous languages ​​are about to disappear.
Genre
Music interactive map.
Year
2019
Country
United States of America
Author
Association For Cultural Equity.
Platform
Web
The Global Jukebox explores connections between families of expressive style. One can travel the world of song, dance and language through the Wheel Chart and the Map. Thousands of examples of the world's music, dance and other expressive behavior are available here. The Global Jukebox is presented as a free, non-commercial, educational place for everybody ‐ students, educators, scholars, scientists, musicians, dancers, linguists, artists and music fans can all explore expressive patterns in their own cultural-geographic and diasporic settings and alongside others'. By inviting familiarity with many kinds of vocalizing, musicking, moving, and talking, we hope to reconnect people and communities with their creative heritage and to advance cultural equity.
TECNOSPHERE FOR BIOSPHERE